The VDOT Concept for Vint Hill Road/Route 600 & Route 29 Intersection says:
"VDOT has secured $2.48 million in funding through the federal Highway Safety Improvement Program to install a restricted crossing U-turn (RCUT) at Route 29 and Route 600.  This design eliminates left turns from the side streets and replaces the existing traditional traffic signal with two-phase signals at the intersection and at each U-turn facility.  This concept reduces red-light time and improves traffic flow, as well as addresses the frequent rear-end and turning-related crashes at the busy intersection."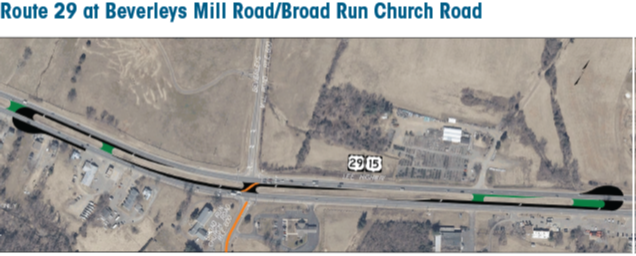 Why this doesn't work:
It is the belief of the stakeholders that the proposed "Michigan Lefts" would deter traffic to the businesses along the corridor.  Local homeowners are concerned about the safety of making U-turns on a very busy highway, with no way to break the flow of traffic.  Commuter traffic attempting to return home to the local communities would back up the U-turn lanes and further congest the corridor.  Large vehicles such as semi-trailers, horse trailers, RV's, and vehicles towing trailers or boats would have an almost impossible turn to make.  Emergency Respondents would face a difficult maneuver with large fire trucks and decreased response times.
VDOT's primary concern is moving through traffic through this section of the corridor quickly, however their concept leaves no consideration for the local community that needs reliable, safe access to Route 29.
To view a video of a vehicle attempting to turn onto Route 29 South from Broad Run Church Road HERE.
To view videos of local stakeholders speaking at the Public Hearing meetings in opposition of the VDOT Proposed Plan view the Gallery HERE.